Demanding watering tasks for plants with different requirements can be easily handled with the multi-functional spray gun Plus. The innovative membrane technology developed by Kärcher guarantees a drip-free spray head for every use – even when switching the spraying pattern. If required, the membrane on the shower disc can be removed and cleaned, so that the optimal spraying results are always achieved. The rotatable handle, with which the lockable trigger can be pointed forwards or backwards, allows for individual operating comfort. This model also features 4 spraying patterns: Shower, point and flat stream, as well as the fine spray mist. This is perfect for gentle watering of sensitive plants, while the shower is ideal for watering plant and flower beds. For smaller cleaning tasks in the garden, the point jet is recommended. And using the control valve, which can be operated with one

FEATURES AND BENEFITS
Membrane technology in the spray head interior
Rotatable handle
Individual operability with trigger handle pointed forward or backwards.
Ergonomic control valve
Regulation of the flow rate on the nozzle with just one hand.
Four selectable spraying patterns with locking function
Shower, flat stream, spray mist and point jet.
Easy locking of the trigger handle
For convenient and continuous watering.
Soft plastic elements with grip
For greater comfort and protection.
Self-emptying
Optimum protection against frost damage.
Removable shower disc
For cleaning the membrane of blocked nozzles.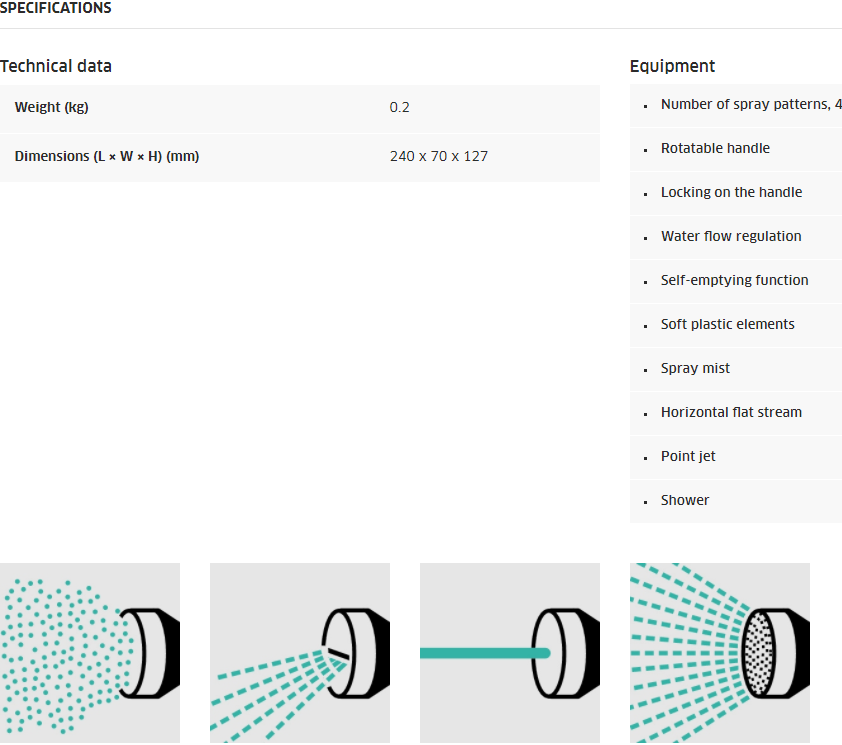 APPLICATION AREAS
Suitable for demanding watering tasks
Suitable for watering many different types of plant in the garden
For watering plants and flowerbeds
For cleaning lightly soiled surfaces
For cleaning leaves
For gentle watering of sensitive plants, e.g. seedlings
For watering hedges and close to plant roots