Sprayers especially manufactured with highly resistant materials designed to be compatible
with chemical agents commonly used in the world of professional cleaning and disinfection,
construction, automotive and all industrial workshops. Especially resistant to acids.
MADE in Spain
Product Features:
All plastic parts and washers resistant to most acids and solvents
3 bar safety valve with depressurization option
Strong translucent tank with level indicator
Funnel incorporated into tank
Metal lever on trigger release valve
Filter in the lance
Base of tank can be used to wind the hose round it for storage
Carrying handle and straps for carrying over shoulder
Supplied with adjustable cone spray nozzle
Outfit includes adjustable cone spray nozzle and fan spray nozzle
50 cm extension lance available as an accessory

Technical Specifications:
Total Capacity: 6 l.
Useful Capacity: 4 l.
Litres/min 3 bar: 0.5 l./min.
Gross Weight: 1.72 kg
Net Weight: 1.47 kg
Volume Per Unit: 0.015 m3
Packaging Measurement: 18 x 18.5 x 46.5 cm.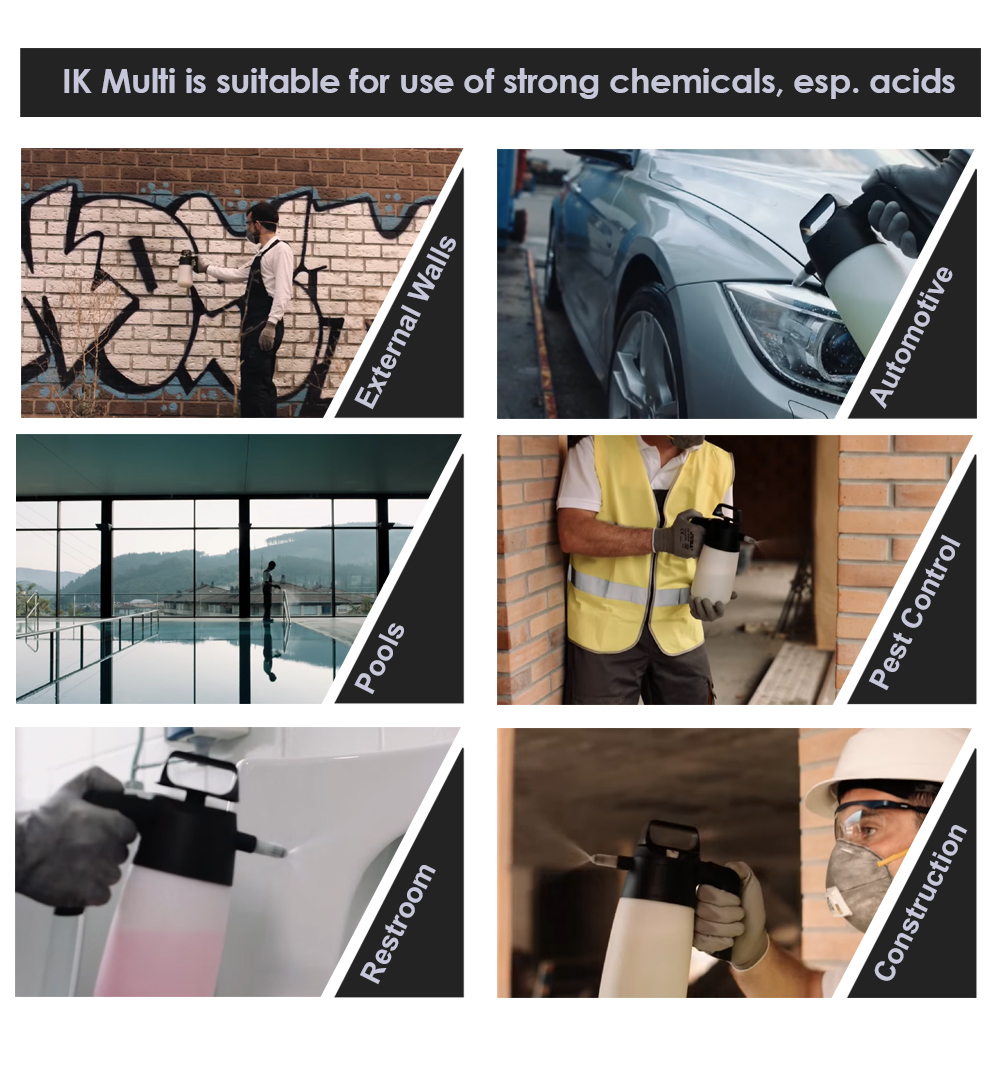 Industries
CONSTRUCTION

Application of mould release agents, stripping substances, descaling agents, waterproofing substances, curing agents, sealants, densifiers, coolants for cutting tools, machinery maintenance etc.

AUTOMOTIVE

Application of degreasers, rim cleaners, insect remover, coolants for cutting tools, window cleaning, upholstery cleaners etc.

CLEANING / DISINFECTING

Application of detergents, disinfectants, polishers, shampoos, descalers etc.
Certification: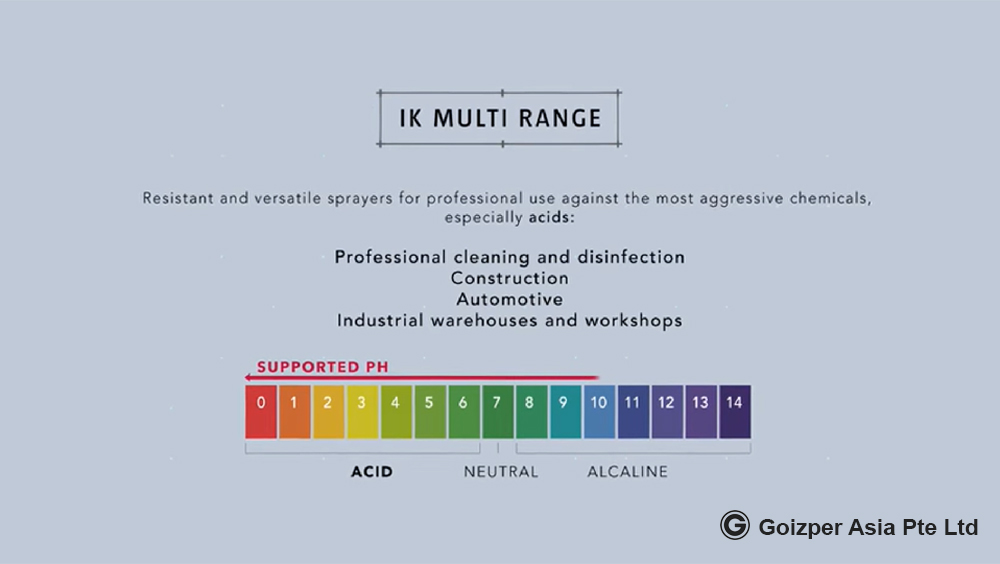 Chemical Compatibility Information
Optimal for application of:

ACIDS

HYDROCHLORIC ACID(MAX 30%)
HYDROFLUORIC ACID (MAX 20%)
PHOSPHORIC ACID
NITRIC ACID (MAX 20%)
SULPHURIC ACID (MAX 30%)
OTHER ACIDS
Suitable for application of:

ACIDS
ALCOHOLS

BUTANOL
ETHANOL
METHANOL
OTHER ALCOHOLS

AROMATIC HYDROCARBONS

DECANE
HEPTANE
HEXANE
LIMONENE
PENTANE

OILS AND PETROLEUM PRODUCTS

MINERAL/VEGETABLE OIL
DIESEL OIL
GASOLINE
KEROSENE
WHITE SPIRIT

ALKALINE AND KETONES

AMMONIA
SODIUM HYPOCHLORITE