Sprayers especially manufactured with highly resistant materials designed to be compatible
with chemical agents commonly used in the world of professional cleaning and disinfection,
construction, automotive and all industrial workshops. Especially resistant to acids.
MADE in Spain
Product Features:
2.5 bar safety valve with depressurization option
Large opening for easy filling and cleaning
Ergonomic design
Chemical resistant and strong translucent tank with level indicator
Protective sleeve for valve chamber
Easy assembly and taking apart for cleaning and maintenance, tool free
Supplied with adjustable cone spray nozzle and even fan spray nozzle
Option of fitting other types of nozzles and accessories.

Technical Specifications:
Total Capacity: 1.5 l.
Useful Capacity: 1 l.
Litres/min 3 bar: 0.5 l./min.
Gross Weight: 0.6 kg
Net Weight: 0.46 kg
Volume Per Unit: 0.006 m3
Packaging Measurement: 16 x 16 x 27 cm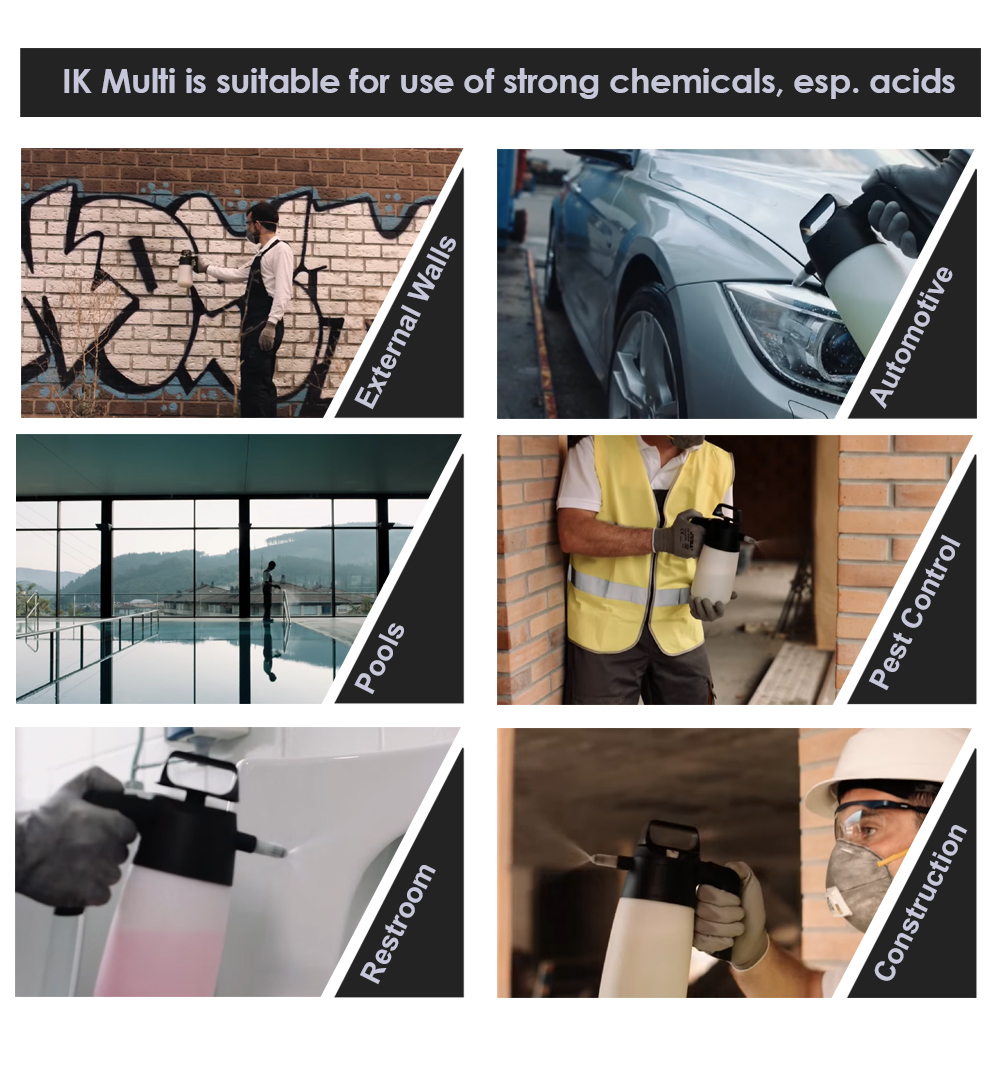 Industries
CONSTRUCTION

Application of mould release agents, stripping substances, descaling agents, waterproofing substances, curing agents, sealants, densifiers, coolants for cutting tools, machinery maintenance etc.

AUTOMOTIVE

Application of degreasers, rim cleaners, insect remover, coolants for cutting tools, window cleaning, upholstery cleaners etc.

CLEANING / DISINFECTING

Application of detergents, disinfectants, polishers, shampoos, descalers etc.
Certification: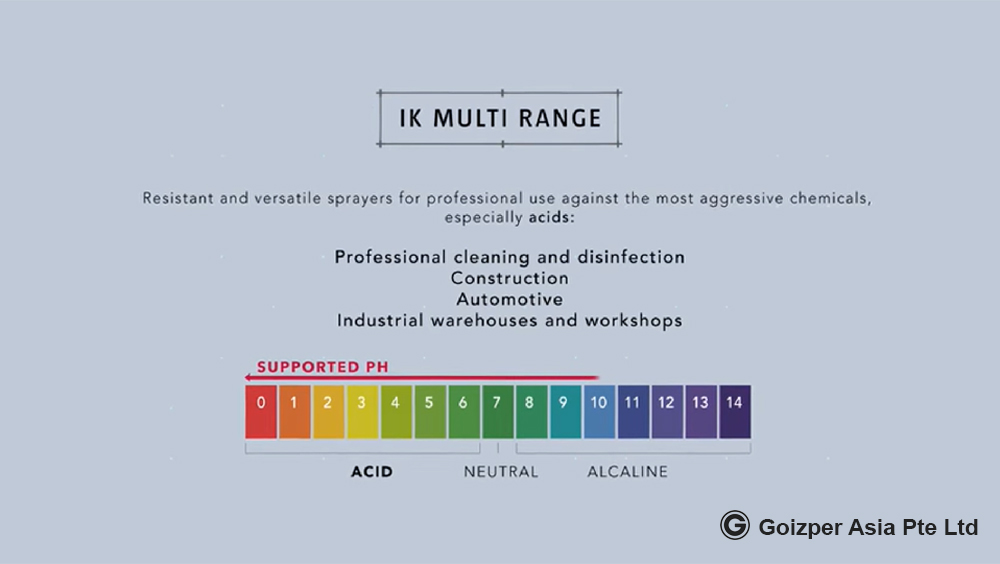 Chemical Compatibility Information
Optimal for application of:

ACIDS

HYDROCHLORIC ACID(MAX 30%)
HYDROFLUORIC ACID (MAX 20%)
PHOSPHORIC ACID
NITRIC ACID (MAX 20%)
SULPHURIC ACID (MAX 30%)
OTHER ACIDS
Suitable for application of:

ACIDS
ALCOHOLS

BUTANOL
ETHANOL
METHANOL
OTHER ALCOHOLS

AROMATIC HYDROCARBONS

DECANE
HEPTANE
HEXANE
LIMONENE
PENTANE

OILS AND PETROLEUM PRODUCTS

MINERAL/VEGETABLE OIL
DIESEL OIL
GASOLINE
KEROSENE
WHITE SPIRIT

ALKALINE AND KETONES

AMMONIA
SODIUM HYPOCHLORITE