Centipede Powder 100gm (non Toxic)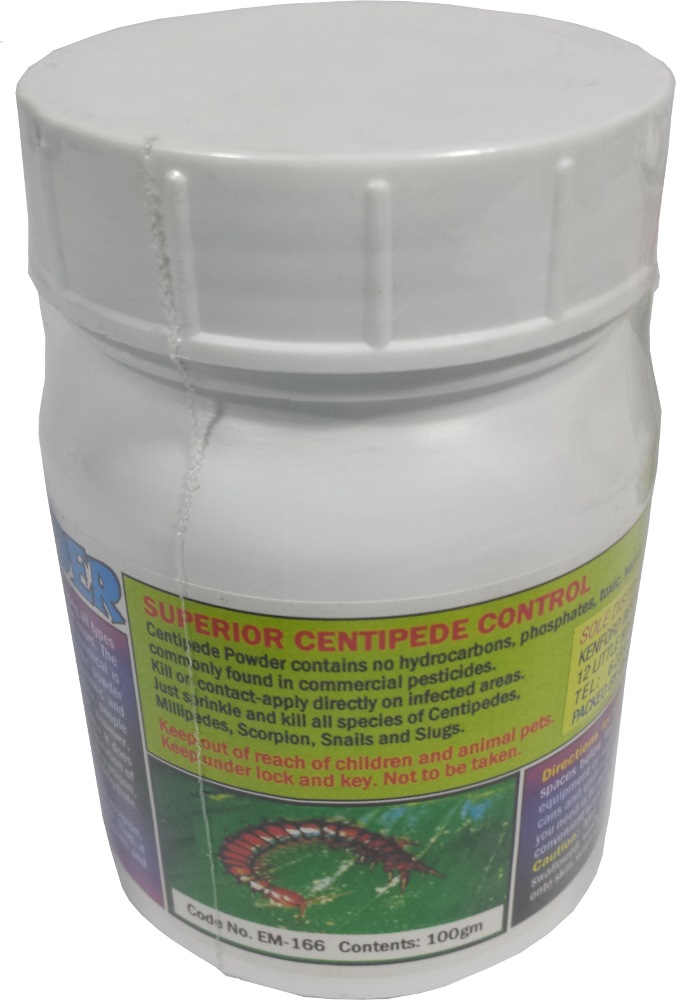 Product Details
In this aspect, Centipede Powder is an ideal pesticide. It is nontoxic and odorless, through residual control.
As Centipede Powder is made of silica, people sometimes mistakenly think that it causes silicosis.
As indicated above however, pesticide quality Centipede Powder is usually over 98 per cent amorphous silica.
It does not cause silicosis, which is associated only with crystalline silica.
Indeed, inhalation of road dust and grain dust is likely to be more harmful.
Centipede Powder is not a poison, but kills centipedes on contact by causing the exoskeleton insects bodies to dehydrate.
Humans and animals with internal skeletons are not affected in the same way.
Control: Centipede Powder is effective in killing centipedes, millipedes, scorpion, snails and slugs.
Centipede Powder contains trace minerals that fertilize the soil.
Thus, it is not only non-poisonous; it is also good for the environment! Even the animals and earthworms are not harmed
Usage Instructions:
May be applied directly to cracks and crevices, as well as open spaces below floors, above ceilings, within walls, under stairs, underneath and behind equipment or appliances, around pipes, under sinks, in utility closets, around garbage cans and under carpet edges.
To protect houses and buildings from pest infestations, all you need is to make the powder bound to any surface that requires protection.
One of the convenient ways is to mix the powder with water, then spray or paint onto the surfaces.
Questions?
Please
log in
to post a comment